Chloe watering the Selfheal (Prunella vulgaris) plugs she has planted on the Clapham Manor estate as part of the bee-friendly planting day organised by River of Flowers and Urban Bees on Saturday.
The day was a great success. 2012 The weather was perfect and some 50 local residents and children came out to help plant three raised beds on the estate to create one end of a 'river of flowers' . The three beds each had a different theme:
Chloe's at the Food and Flowers bed, where edible wild flowers including tufted vetch, red clovers and wild carrots are planted in clumps to create swathes of tasty forage for bees and other pollinators.
Kendi, 6, was another budding gardener. roshe run He came with his grandmother and said he really enjoyed getting his hands dirty and learning about bees and plants.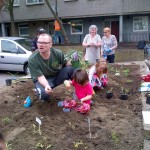 Sid and his 3 year old daughter, Rose, are helping to plant up the Bee Pasture bed with a mixture of wild flowers such as white campion, yarrow and lesser knapweed, with one of my favourite bee and butterfly ornamental plants Erysimum 'Bowles Mauve'.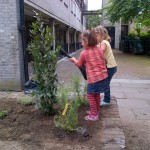 Two enthusiastic young helpers on the Fragrant Walk, a long planter filled with ornamental plants that smell divine and are hugely attractive to bees and other pollinators. Backpacks The two best bee-friendly varieties of lavenders: Angustifolia 'Munstead' and 'intermedia Grosso' are accompanied by rosemary, mint, and marjorams, with bay trees down the middle.
As well as transforming what was a dark area on the estate to a much brighter, open space , this bed will provide much-needed forage from June to September. And residents can use the plants for culinary purposes. This bed also needs less watering as the plants are used to a dry Mediterranean climate.
Each of the wildflowers and garden plants were carefully selected for pollinators and people so we hope they will be enjoyed by both immensely.
Some of the happy organisers at the end of the day's planting: L-R Josh Kerry (Lambeth council), Kathryn Lwin (River of Flowers), myself Alison Benjamin (Urban Bees) and Kerrie Mckinnon (River of Flowers). Kanken Thanks to Josh for inviting River of Flowers & Urban Bees to participate in the Clapham Greenways project and for getting the water butts on site, and to Kerrie for her invaluable planting plans for each of the beds.
Other thanks go to Crispin at Father Nature, whose volunteers and workers cleared each of the beds of tired old bushes and shrubs and prepared them with top soil. And all the residents who came along, including the aptly named Rosemary, and especially to Nina who galvanised a lot of support.
Residents involvement is key. Now the beds are planted, two of them will need constant watering during this dry, hot spell.
It's the first community planting days that Urban Bees has been involved in. With forage such an important issue for all bees, we hope to do many more.
A second planting day on this estate will be held in June. Dates tbc …