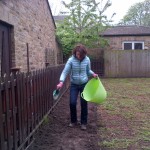 Laying a wildflower meadow turf on a council estate in south London and sowing a strip of wildflowers around it is the beginning of a project Urban Bees and River of Flowers are doing to transform pockets of ugly, unloved green spaces into vibrant, colourful bee pastures.
This is our first collaboration to improve bee and other pollinator habitats for food and shelter.
We were asked by Lambeth council to come up with ideas for improving the environment and making it more bee-friendly after calls from residents to brighten up the place.
We will be pioneering the planting of wildflower bee pastures for wild bees, honeybees and other pollinators. We're also creating a 'fragrant walk' with flowering herbs that bees love and dotting some ornamental bee favourites around the estate including hebes, Mini choisyas and wallflowers.
We're hoping to get local school children to help us finish this bee and bug hotel.
Resident's will be out planting in May to create the first bee pastures in raised beds. They'll also be planting fruit and veg around the estate as part of a local residents' food growing programme.
Thanks to Crispin and the fathers at Father Nature for doing all the hard lifting, 2012 raking and laying for the wildflower meadow. Mini Backpack (Now we have to hope for lots of rain and that people and dogs don't trample over it.)
And to our youngest helper.
The lessons we learn here will inform future Urban Bees/River of Flowers projects to make our cities more pollinator-friendly.