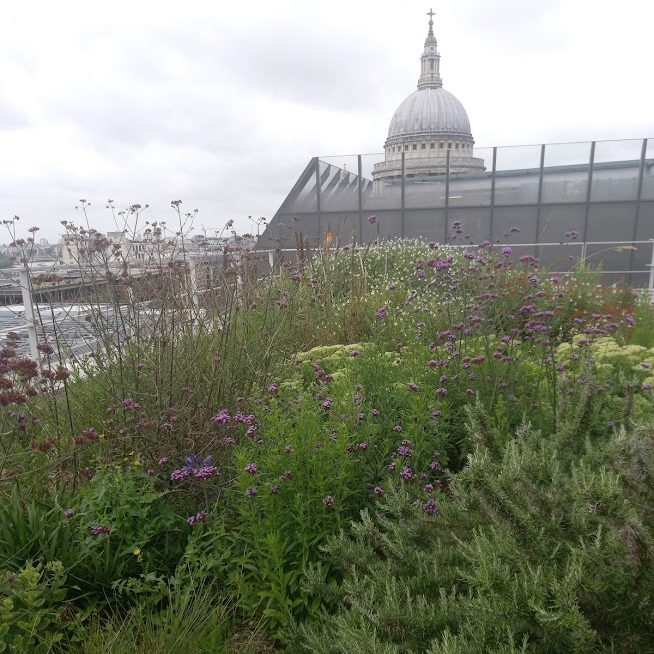 Drought-resistant perennials planted in large, foot-high planters 8 storeys up on 1 Bread Street, EC4
This summer I've been rewilding office roofs in London to feed and house wild bumblebees, solitary bees and other pollinators. Two of the roofs overlook the City of London and aren't accessible to people working in the offices.
Bee-friendly perennials replaced evergreen shrubs in planters on Carter Lane, EC4
One rooftop is in Soho and is frequently used by staff to hang out and have lunch.
Lush London studio rooftop 5 storeys high. Hexagonal planters with year-long bee-friendly flowers, W1
For a city law firm, we have worked with their gardener to improve the planting for bees and installed bee hotels where solitary red mason bees make their nests each spring.
Bee hotels installed on 8 storey roof terrace used for entertaining. Early-flowering rosemary and wallflowers, EC4
We've also rewilded window boxes and planted small trees for bees on rooftops.
Window box of Verbenas hung on roof terrace railings. Crab apple tree (Malus sylvestris 'Evereste') blossoming in a rooftop planter in the City
We judge the success by the bees and other pollinators visiting the flowers and nesting.
Top left clockwise: Common carder bee on Nepeta; Buff-tailed bumblebee on Nepeta; Red mason bees nesting in a bee hotel; Common furrow bee on Anthemis tinctoria; Hairy-footed flower bee on Nepeta.
Rooftop rewilding is part of a solution for companies wanting to mitigate climate change. We know the climate and nature are intertwined and we can't solve one without improving the other. Rooftop rewilding is a local and tangible start by bringing more nature into cities and improving biodiversity. And it is a great way to engage employees and community groups through talks, workshops and 'meet the bees' sessions and to and enhance your company's social value.
Bee spotting on roof terrace with Weil law firm; pupils from a local school supported by Weil take part in a bee hotel workshop.
Rewilded rooftops can provide nature-based solutions to flooding, heatwaves and pollution, as well as making cities more attractive to us as well as to pollinators. And corridors of rewilded rooftops would prevent pollinators being confined to small fragments of habitat and instead allow them to thrive by creating 'bee-lines' – a green super highway where each rooftop becomes a pit stop where they can refuel with nectar and pollen on the way to city parks and green spaces. (It has been estimated that up to 70% of wildlife species could go extinct if action is not taken to enable them to move through the landscape). 
If you would like Urban Bees to rewild your rooftop, or to work with your existing gardeners to improve planting for pollinators, we will happily pay a visit and provide a free consultation. No space is too small, from patios, to window boxes. Rewilding every grey pocket could help.
Contact: Alison Benjamin alison@urbanbees.co.uk 0788 4054150