Now's the ideal time to make a bee hotel for solitary bees. Wooden bee hotels are easy to make if you're good with a saw and nails (which I'm not). You can also buy them in garden centres. avis But it's easy to make a more simple type of bee hotel with an old water bottle.
There are more than 200 different species of solitary bees. All are vital pollinators. Many are cavity nesting, so they need dark holes in which to lay their eggs in the spring onwards. They nest alone, but often next door to each. They rarely sting. Red mason bees (Osmia bicornis), blue mason bees (Osmia caerulescens) and Leafcutter bees (Megachile centuncularis) are the most common solitary bees you'll be helping by putting up a bee hotel.
For our simple bee hotel, you'll need String, or garden twine; a plastic drinks bottle; bamboo tubes between 4mm to 10mm, but mainly 7-8mm in diameter; a scalpel; a small hack saw if you're going to cut the bamboo (You can buy it pre-cut here). It takes a long time to saw 50 pieces of bamboo!
How to make your solitary bee hotel Cut off the neck off the bottle with the scalpel so it measures about 16cm long. Make two small holes equal distance apart along the length of the plastic bottle. Thread the twine through allowing enough length to make a loop for hanging up. If you are cutting the bamboo, use a hack saw and cut to 15 cm. Avoid any nodules. Make sure the bamboo canes are hollow throughout including both ends.
Tightly pack your 15 cm tubes into the plastic bottle (you want them to be protected from the rain so ensure they're not sticking out), so that they don't fall out. You many need to push some smaller twigs or plant stems in between the tubes to wedge them in.
Where to locate your bee hotel A warm wall (south or south west facing), sheltered from the wind, 1 metre or more, off the ground. You don't want the hotels to be shaded by overhanging trees or other vegetation, or to sway around. Suspend it with a slight tilt so the rain runs off the bottle and not into the open tubes. I've wedged this one into some trellis and attached the twine to a branch above.
We also use ready-made cylindrical bee hotels, which come with cardboard tubes lined with paper. Here, we have attached a number under the eaves of our south facing garden shed. We've also located them on corporate roof terraces alongside bee-friendly flowers.
When to put it up End of March or early April, then you will hopefully attract solitary bees that are newly emerged, have mated and are looking for somewhere to lay their eggs, like this one in the photo.
Bed and Breakfast Solitary bees are more likely to check-in to your hotel if there's also food and drink. So ensure you grow some of the following plants in spring/early summer:
forget-me-not (Mysotis)
wallflowers (Erisymum)
green alkanet (Pentaglottis)
Pieris japonica
Culinary herbs including rosemary, thyme, oregano, horehound (Marrubium vulgare)
Cranesbill geraniums, such as Rozanne.
Bird's foot trefoil (Lotus corniculatus) and St John's Wort (Hypericum) and roses, for leafcutter bees which like to cut discs from their leaves of roses to make their nests.
You also need to leave some bare areas of soil, as red and blue mason bees will use this to make the nest, and a regularly topped up saucer/basin of water with stones in it that the bees can balance on while taking a drink. Bees can't swim.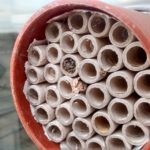 How do I know if my bee hotel is being used? When bees have laid their eggs in a tube, they will seal it with either mud or leaves. These tubes can be left out over winter and new bees should emerge the following spring. Looks like only one room in this bee hotel has been occupied so far.
Be patient. It may take some time for bees to know the bee hotel is there. The more bee-friendly flowers you grow the more likely you are to attract them.
Hopefully next spring you may see solitary bees emerging through the sealed mud like this little fellow.