Two months after laying wildflower turf and sowing wildflower seeds on Clapham Manor estate in south London, this is the glorious result. Mochilas Fjällräven Kanken Tienda Not only is Kathryn Lwin from River of Flower ecstatic but the bees love it too.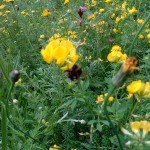 We've just had our second planting day on the estate, where Lambeth council has invited River of Flowers and Urban Bees to work with residents to improve forage for bees and other pollinators.
Here are some of the children planting a new raised bee pasture.
Watering
and with the Mums
There's a lovely combination of native, wild flowers including black knapweed, hedgerow cranesbill and purple betony, with bee-friendly ornamentals such an early flowering clematis armandii to trail along the wall, a winter flowering honeysuckle (Lonicera fragrantissima) and a Mexican orange blossom (Choisya ternata) which should flower in the spring and again in the autumn to provide the bees and other pollinators with year round foarge.
After just a few hours of digging, planting, watering and mulching, adults and children had transformed the empty raised beds into a haven for pollinators.
And here is one we did early…
The food and flowers square that we planted at the end of April was teeming with Horseradish, wild carrrot, wild red clovers and more. These photos don't really do it justice. It looked so much more beautiful than the sterile bedding displays that local parks and civic offices still go in for.
We also filled a Plant Lock with wildflowers. This is probably a first. More will follow across the estate. Each will be adopted by a resident.
Thanks to everyone who made the day such a success, particularly to Tammy Sharma and her family. Sonny's DIY skills were invaluable for putting up the trellis for the clematis, Shanti's skill with the watering cans ensured no plant went thirsty – and she's only 41/2, and Alex, 8, was keen to learn about the plants.. until the snacks arrived. And to Crispin at Father Nature and his family crew who supplied plenty of hands, bunting and music. sb And not forgetting Rosemary and Alison for getting their hands dirty, not least weeding the existing beds (which is really important) and for adopting the first Plant Lock. And as always to Nina for publicising the event and having the extra long hose at hand. Oops, nearly forgot Josh at Lambeth council, without whom non of this would have been possible.
River of Flowers and Urban Bees will be back in the autumn to plant bulbs that will give bees early spring food next year, but I'm sure we'll pop along next month just to see how it's all looking….